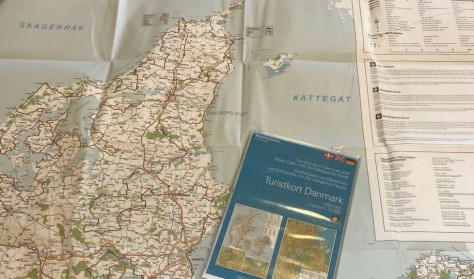 Turistkort Danmark / Touristmap of Denmark
Turistkort over Danmark i målestok 1:500.000. Kortet indeholder bl.a hovedveje og motorveje med vejnumre, badestrande, campingpladser, seværdigheder, Margueritruten samt færgeruter med rejsetider. Detaljeret bykort i målestok 1:15.000 over København, Odense, Aarhus og Aalborg med vejnavne. Praktisk information på dansk, engelsk og tysk.
Sendes med quickpost.



Touristmap of Denmark. 
Tourist map over Denmark. 1:500.000. The plan contains main roads, highways, beaches, campsites, attractions, The Marguerite Route and ferry routes included travel times. Detailed city map of Copenhagen, Odense, Aarhus and Aalborg included street names. Practical information in Danish, English and German.
Delivery time is approx. 14 days.